B&E Firm News
Tom Elligett received the 2019 Lifetime Achievement Award from the University of Florida College of Liberal Arts and Sciences.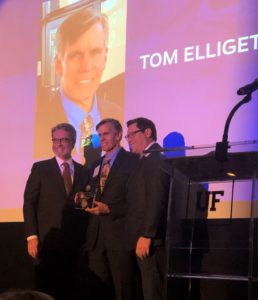 ---
Amy Farrior presented several checks as the former Hillsborough County Bar Foundation President at the October HCBA lunch.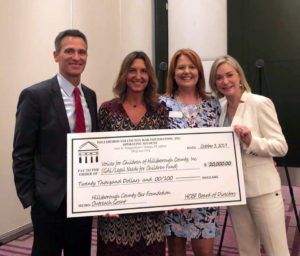 ---
The 8th Edition of Florida Appellate Practice and Advocacy by Tom Elligett and Judge John M. Scheb has been published.
---
Tom Elligett authored articles for the Inn of Court Bencher Magazine:
"Fatherly and Other Wisdom for Enjoying the Practice of Law and More" (July, 2018), and "The Key to Balance: A Fair and Impartial Judiciary" (March, 2018).
---
Mark Buell, Tom Elligett and Amy Farrior have been recognized in the 2020 Best Lawyers list. See www.bestlawyers.com Mark was selected in Bet-the-Company Litigation, Commercial Litigation, Eminent Domain and Plaintiffs Personal Injury; Tom in Appellate Practice and Eminent Domain; and Amy in Appellate Practice.
---
Tom Elligett has been recognized in Florida Trend's 2019 Legal Elite and Hall of Fame.  See www.floridatrend.com
---
Mark Buell, Tom Elligett and Amy Farrior have been selected to the Florida Super Lawyers 2019 list. See www.superlawyers.com
---
Amy Farrior has been elected to the Florida Bar Board of Governors, representing the Thirteenth Circuit.
---
Buell & Elligett, P.A., has been recognized in the 2019 edition of Best Law Firms by U.S. News. https://bestlawfirms.usnews.com
---
Mark Buell has become a Fellow in the American College of Trial Lawyers. Membership is extended by invitation only, after a thorough evaluation to confirm the lawyer has mastered the art of advocacy and exemplifies the highest standards of ethical conduct, professionalism, civility and collegiality. More information on the College is available at http://www.actl.com/AM/Template.cfm?Section=Home
---
Shirley Faircloth has been appointed to chair Florida Bar Grievance Committee 13A.
---
Shirley Faircloth has been appointed to the Thirteenth Judicial Circuit Local Professionalism Panel, and the Thirteenth Circuit Professionalism Committee