Florida Appellate Practice and Advocacy Eight Edition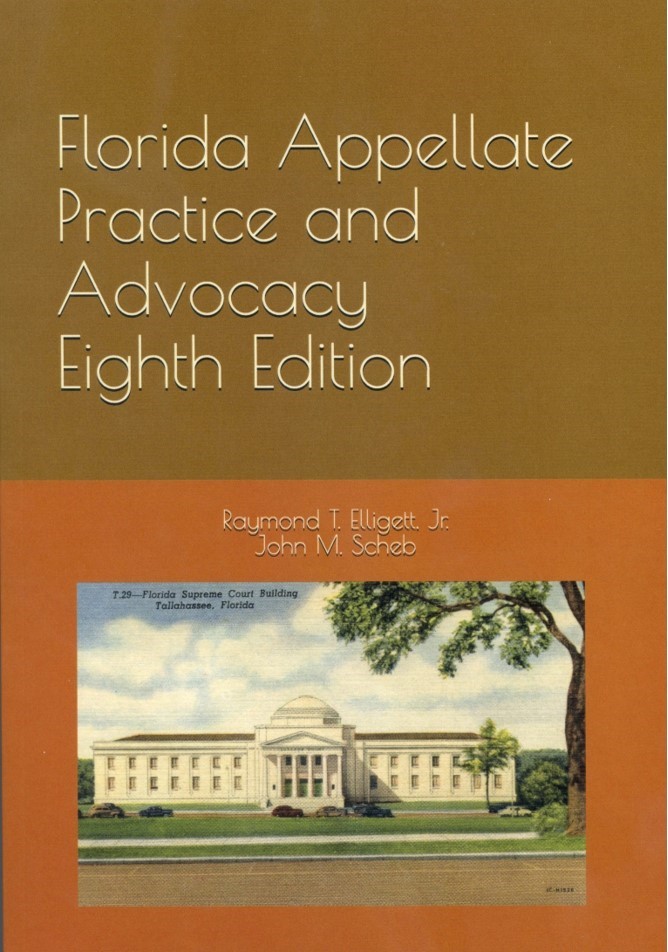 Updates (July 2023)
* Effective January 1, 2021 new Rule 9.045 specifies the two acceptable fonts (see below). Amended Rule 9.210 specifies the new word count limits for briefs, and Rule 9.100 for original proceedings.
§1.3 Effective January 2023 the new Sixth District opened, headquartered in Lakeland.
§2.2 In Furst v. DeFrances, 332 So. 3d 951 (Fla. 2021) the court accepted jurisdiction on the basis the district court opinion expressly affected property appraisers, a class of constitutional officers.
§2.3 Kartsonis v. State, 319 So. 3d 622 (Fla. 2021) reiterated that express and direct conflict requires either the announcement of a conflicting rule of law or the application of a rule of law that results in a conflicting outcome despite "substantially the same controlling facts." The facts in the second situation "are of the upmost importance" and there can be no conflict when the cases are easily distinguishable. The opinion rejected accepting the case based on asserted "apparent conflict."
Simply because a case may present "federal issues," that does not provide a basis for Florida Supreme Court review. Mallet v. State, 280 So. 3d 1091 (Fla. 2019).
§2.4 & §2.5 Effective January 1, 2021, Section 26.012, Florida Statutes is amended so that most county court appeals go to the district court of appeal, rather than the circuit court.
§3.6 Most district courts hold jury selection errors in civil cases are "per se errors" not subject to a harmful error analysis. See, e.g., Kochalka v. Bourgeois, 162 So. 3d 1122 (Fla. 2d DCA 2015). Seadler v. Marina Bay Resort Condo. Assoc., Inc., 341 So. 3d 1146 (Fla. 1st DCA 2022), disagreed and certified conflict. The Florida Supreme Court accepted jurisdiction in October 2022.
State v. Johnson, 295 So. 3d 710 (Fla. 2020), reiterates that the party opposing the strike must make a specific objection to the proffered race-neutral reason to preserve the claim the trial court erred in concluding the proffered reason was genuine.
Lafayette v. Moody, 316 So. 2d708 (Fla. 4th DCA 2021), reiterates that if the trial court finds the party has stated a race-neutral reason for striking a juror, the strike may not be denied solely because it leaves no member of a minority group on the panel.
§3.15 Royal Caribbean Cruises, Ltd. v. Spearman, 320 So. 3d 276 (Fla. 3d DCA 2021), held an expert's testimony, which should have been excluded under Daubert, was not preserved for review when a general verdict form was used and another theory of liability that did not depend on the testimony supported the verdict.
§3.17 The supreme court amended Rule 1.530(a) and Rule 12.530(a). They now require that to preserve for appeal a failure of the trial court to make required findings of fact a party must raise that issue in a motion for rehearing.
Dupree v. Younger, U. S. , 143 S. Ct. 1382, 215 L. Ed. 2d 636 (2023), holds a post-trial motion under Rule 50 is not required to preserve for appellate review a purely legal issue resolved at summary judgment.
§4.4 Effective January 1, 2021, Rule 9.110(d) is amended to require the notice of appeal indicate the pendency of any motion postponing rendition under Rule 9.020(h). It also requires that within ten days of either withdrawal of such a motion or rendition of the order being appealed, the appellant shall file a notice indicating the withdrawal or a conformed copy of the signed, written order disposing of the motion. The intent is to discourage filing notices of appeal before rendition of the order being appealed.
Also effective in 2021, Rules 9.440(b),(c) address counsel entering a limited appearance in a appeal. Rule 9.900(n) has a form.
§4.5 Beware that the Third District has taken a narrower view that an earlier order must be listed in the notice or sufficiently related to the order named. See Saka v. Saka, 831 So. 2d 709 (Fla. 3d DCA 2002).
§4.6 Burns v. Burns, 278 So. 3d 56 (Fla. 4th DCA 2019), holds the clerk must accept a notice of appeal even though the filing fee was not paid through the portal when the notice was filed.
§4.11 Effective October 1, 2021, Rule 9.020(h)(1)(A) is amended to read: "motion for new trial, remittitur, or additur."
§4.12 The full cite is Meus v. Eagle Family Discount Stores, Inc., 499 So. 2d 840 (Fla. 3d DCA 1986).
Rule 1.530(h) governs the procedure for seeking a remittitur or additur.
§4.13 Cite update: Fla. Organic Aquaculture, LLC v. Advent Environmental Systems, LLC, 268 So. 3d 910 (Fla. 5th DCA 2019).
§4.27; 4.32; 8.13 Effective January 23, 2020, the Florida Supreme Court amended Rule 9.130 to eliminate the requirement that the denial of sovereign immunity (or immunity for a civil rights claim) be as a matter of law, thereby broadening the nonfinal review of such orders.
§4.27 Rule 9.130(a)(3)(C)(ix) permits review of orders that determine, as a matter of law, that a settlement agreement is unenforceable, is set aside, or never existed.
Effective April 1, 2022, Rule 9.130(a)(3) is amended to permit review of orders that: (G) grant or deny a motion for leave to amend to assert a claim for punitive damages.
Subject to further comment, in July 2023 the Florida Supreme Court added: (H) deny a motion to dismiss on the basis the qualifications of a corroborating expert witness under sections 766.102(5)-(9), Florida Statutes.

§4.32 The Supreme Court agreed with the district court in Florida Highway Patrol that the rule as worded did not permit review. As discussed above, the Court revised the rule.
Emerald Coast Utilities Auth. v. Thomas Home Corp., 359 So. 3d 1239 (Fla. 1st DCA 2023), holds Rule 9.130 as revised permits review of an order denying a request that the sovereign immunity damages cap applies.
§4.45 Delete Pridgen v. Andreson paragraph and replace with: Metlife Life & Annuity Co. v. Akpele, 886 F.3d 998 (11th Cir. 2018), holds a party could not appeal an order determining liability for attorney's fees if the amount had not been set.
§4.47 Milligan v. CCC Info. Servs., 920 F.3d 146 (2d Cir. 2019), held the appraisal process under an insurance policy constituted arbitration for purposes of the FAA.
§6.2 Effective January 2022, the supreme court adopted Rule 9.143 addressing "crime victims" under Florida's Marsy's Law constitutional amendment.
§7.3 Cite update: Waves of Hialeah, Inc. v. Machado, 300 So. 3d 688 (Fla. 3d DCA 2018).
§7.4 Capital Development Group, LLC v. Buena Vista Terminal, LLC, 306 So. 3d 342 (Fla. 3d DCA 2020), sets forth factors a court should consider in setting the amount of a bond in a case involving real property (and not a monetary judgment).
§7.8 Correction: the Main Street case should be in §6.3 because the appellant accepted the payment.
§7.10 The Third District en banc receded from earlier decisions and held the automatic bankruptcy stay does apply when the debtor has filed the appeal in National Medical Imaging LLC v. Lyon Financial Services, Inc., 349 So. 3d 895 (Fla. 3d DCA 2021).
§7.13 Effective January 1. 2021, Rule 9.300(d) is amended so that motions filed in the Florida Supreme Court have the same tolling affect of motions in other Florida appellate courts.
8.2 Extraordinary writs do not have a specified filing time limit, but may be denied if the court concludes there was an unreasonable delay. Warren v. DeSantis, 48 Fla. L. Weekly S113 (Fla. June 22, 2023).
8.7 Effective January 1, 2021, Rule 9.045 revises the font requirements and Rule 9.100 specifies the word count limit.
§8.10 As noted, effective January 2021 because county court final appeals now go to the district courts of appeal, there would not be second-tier certiorari review of circuit court appellate decisions involving county court judgments.
Hicks v. Keebler, 312 So. 3d 1000 (Fla. 2d DCA 2021), found the circuit court had departed from the essential requirements of law when it affirmed a county court decision. The Second District then reviewed the merits of the county court decision because the circuit court no longer had jurisdiction to review the county court order after the change in jurisdiction.
§8.11 As noted above, effective April 1, 2022, Rule 9.130(a) is amended to permit review of orders that: (G) grant or deny a motion for leave to amend to assert a claim for punitive damages.
§8.12 Hepco Data, LLC v. Hepco Medical, LLC, 301 So. 3d 406 (Fla. 2d DCA 2020), granted certiorari and quashed an order denying taking depositions of 18 witnesses where the trial court had not addressed the materiality of any of the deponents or found good cause to preclude deposing them. Fagen v. Merrill, 293 So. 3d 1116 (Fla. 2d DCA 2020), granted certiorari and quashed an order requiring disclosure of the former husband's financial information for the purpose of determining the former wife's entitlement to attorney's fees where the wife had yet to pursue her pending 1.540(b) motion that, if she prevailed, might have provided the basis to seek fees.
§10.4 Effective January 1, 2021, in cases not involving criminal or collateral criminal proceedings, a party that files a petition, brief, motion or other document that draws into question the constitutionality of a state statute or state constitutional provision must file a notice of constitutional question. The notice must state the question, identify the document raising it, and be served on the attorney general. Rule 9.425. Rule 9.900(m) has a form.
§10.7 Effective January 1, 2021, computer generated documents shall be filed in either Arial 14-point font or Bookman Old Style 14-point font. Computer generated documents subject to word count limits (briefs and petitions) must contain a certificate of compliance. Rule 9.045.
§10.14 Effective January 1, 2021 see revised Rule 9.210 for word count alternatives.

§10.18 Rules 9.120(f) and 9.210(f) require the petitioner or respondent identify issues other than those on which jurisdiction is based in the statement of issues in the brief on jurisdiction.
11.6 Effective January 1, 2021, Rule 9.320 imposes requirements for requests for oral argument in the Florida Supreme Court, including a brief statement of why oral argument would enhance the court's consideration of the issues.
Effective October 1, 2022, Rule 9.320(e) addresses the "Use of Communication Technology" for oral arguments and requires a request that oral argument take place via communication technology be included in the request for oral argument and state the reason for so requesting.
11.18 M. Neubauer, The Disappearing Oral Argument, 48 Litigation 40 (Winter 2022).
§12.5 An insured is also entitled to an order awarding fees when the insured prevails on some issues in the appeal against the insurer. E.g., Shazam Auto Glass, LLC v. State Farm Mut. Automobile Ins. Co., 300 So. 3d 302 (Fla. 2d DCA 2020); see also, Danis Indus. Corp. v. Ground Improv. Techniques, Inc., 645 So. 2d 420 (Fla. 1994)(the prevailing on significant issues test does not apply to §627.428 fees, and the court can consider on which issues the insured prevailed in setting the fee).
§12.8 The district court does not have discretion to decline to tax appellate costs that have been allocated by the circuit court under FRAP 39. City of San Antonio v. Hotels.com, L.P., U. S. , 141 S. Ct. 1628, 209 L. Ed. 2d 712 (2021).
§13.9 Yeyille v. Speigel, 48 Fla. L. Weekly D1175 (Fla. 3d DCA June 14, 2023), referred a lawyer disciplinary proceedings when he asserted the court was a criminal enterprise that was owned by large law firms.
Cite update: Bank of Am., N.A. v. Atkin, 271 So. 3d 245 (Fla. 3d DCA 2019)
§14.5 Update: "Under the prior precedent rule, a prior panel's holding is binding on all subsequent panels unless and until it is overruled or undermined to the point of abrogation by the United States Supreme Court or the United States Court of Appeals for the Eleventh Circuit sitting en banc. To conclude that a panel is not bound by a prior holding in light of a Supreme Court case, it must find that the case is clearly on point and that it actually abrogates or directly conflicts with, as opposed to merely weakens, the holding of the prior panel." United States v. Dudley, 5 F.4th 1249 (11th Cir. 2021). Dicta is not binding precedent. Randall v. Scott, 610 F. 3d 701 (11th Cir. 2010). Only prior holdings are precedent. Washington v. Durand, 25 F.4th (11th Cir. 2022).
§14.11 In a unanimous decision authored by Justice Ginsburg, the United States Supreme Court reiterated that the principle of party presentation limits courts asking for parties to brief and present issues the parties had not raised on their own. United States v. Sineneng-Smith, U.S. , 140 S. Ct. 1575, 206 L. Ed. 2d 866 (2020).
§14.22 Effective January 1, 2021, new Rule 9.120(f) no longer provides for a notice of cross-review. Rules 9.120(f) and 9.210(f) require the petitioner or respondent identify issues other than those on which jurisdiction is based in the statement of issues in the brief on jurisdiction.